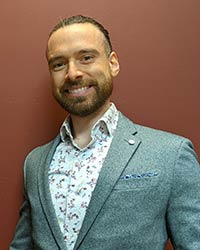 Presidential Address—Annual Members Meeting
People always seem to want to push me even higher, recommend me for certain positions. Which I take as a compliment really. I find it rewarding to be able to represent my peers in all the functions I hold. I feel like that makes it possible for me to be a good leader. By definition, a leader leads for sure, but I have never done anything other than represent my colleagues. I have never taken a role with higher ambitions or to impress with the titles that goes with it. I never felt the obligation to impress people in higher positions. I lead by example and I like to think that I represent the majority well.
I would like to thank my predecessor, Dr. Darren Martin, who has led the college admirably during these past two years. The challenges have been ever-changing and it was a pleasure to work with you. I would also like to thank all previous, current, and future Family Physicians and support staff met during my eight years at the NBCFP. Each and everyone of you has helped me along my professional life's journey. I would also like to welcome our new executive administrative assistant, Dominique Gagnon. The next few years will be rife with new challenges and I'm convinced we will be able to take them on efficiently together. Here's to new adventures!
I am truly impressed with the family physician's capacity to pivot and function in an essential and important manner during this trying COVID-19 pandemic. If anything, it cements the important position we have in society as we have kept working hard to provide competent care to all our patients while others have been sidelined. Bravo to all of you.
Looking to the future, I have a few goals in mind to improve NBCFP's position in our society. As family physicians, we have too often been silent. We do our job in our offices, and by nature, we don't want to stir the pot too much. We tend to want to avoid conflict and live our peaceful little life. Whether it is racism, systemic injustice or health reform, the voice of the family doctor has not been heard and this must change. It is our social responsibility to be heard. There are many of us, we are pillars of our communities, we are influencers. Now is the time to start talking and be heard.
For these reasons, I see the next two years of my presidency as an opportunity to build a firm base to move upwards. In the ideal world I picture, the NBCFP and Family Physicians would be well placed to help our population and should have a more prominent role in decision-making. We should be at table that we are currently not invited to and I find this to be less than ideal. If we want to be at these tables and incite the kind of change that really makes a difference, we need to show the world who we really are and not back down when we are called upon. I see myself as a builder in this regard. I feel we have some work to do to be recognized as more than ''just a Family Physician".
If we don't speak, someone else will be heard. The population listens attentively, and the voice of the Family Physician is not present. This is where the NBCFP can make a difference! Having a collaborative organization with a respected voice will be paramount in helping not only our patients, but our entire province. I feel this is my obligation to the College and its members. I hope I can make everyone proud of the framework we are about to build in the coming years. This framework must be founded on honesty, openness, democracy, and effective communication.
Finally, I would like to thank my little family. Without Monique, life at work and at home would be difficult and joyless. Without Finn, I would not have been able to develop the patience that will be needed to embark on such a project. Without Viggo, I wouldn't know the persistence required to accomplish the task in front of us. I want to make you all proud, but most of all, I want to make my family proud!
As a call to action before I finish; as Family Physicians, let's do our best for all families in New Brunswick. Family Docs Rock!
Dr Ghislain Lavoie
President, New Brunswick College of Family Physicians