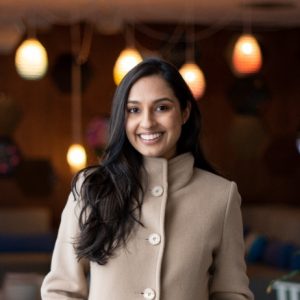 The New Brunswick College of Family Physician is proud to share its Family Doctor Day artwork for 2021, designed by a creative Family Medicine Resident from Newfoundland and Labrador. This initiative is another successful collaboration between the four Atlantic Chapters of the College of Family Physicians of Canada.
Parinita Verma is a second year Family Medicine Resident at Memorial University. Originally from Stephenville on the West Coast of Newfoundland, Parinita completed a Bachelor of Science in Pharmacy and Medical School at Memorial University. She was a recipient of the Drs. James and Leslie Rourke Convocation Award in Medicine.
Parinita has been passionate about Family Medicine. She has been involved as a Student and Resident Representative on the CFPC NL Chapter Board and National CFPC Section of Residents. She values connecting with her patients and education in preventative and chronic disease management. She plans on practicing as a Locum Family Physician within our province.
Parinita has been an avid volunteer in the community, involved with fundraising, and initiatives through the Easter Seals Newfoundland and Labrador Program. Throughout her university years, she has continued to connect with her creative side, as an owner and artist of "Henna Body Art Newfoundland" and "Parinita's Abstract Paintings," which has enabled her to meet inspiring individuals. She enjoys spending time with her fiancé (Ish), parents (Subhash and Rosie), sisters (Sonali and Radhika), family and friends. She loves painting, photography, travelling and hiking!
Thank you Parinita for taking on the challenge!